Bunker's Bar and Grill – Restaurant in Surrey
Bunker's at Guildford Golf and Country Club is a restaurant in Surrey an ideal, casual dining experience. You'll love our food and atmosphere, whether you're finishing a round, preparing to hit the course or simply dropping by for a bite. It is certainly the place to enjoy great food with friends and family!
Bunkers Bar & Grill is now open daily starting at 9:00 am serving breakfast, lunch, dinner and appetizers. Our restaurant in Surrey is centrally located in the vibrant neighbourhood of Fleetwood. The menus offer a wide range of delicious appetizers, salads, burgers and sandwiches. Happy hour specials are also available from 3:00 – 8:00 pm daily. Eat inside our cozy, lounge style restaurant or outside on our patio overlooking hole #3.
Check out the new menu below! For reservations or additional information, please call the lounge at: 604-594-1435 (Ext. 4).
Our new Head Chef, Anthony has brought a new perspective to our kitchen, incorporating a more food to table approach. Banquet meals are prepared carefully, using fresh, seasonal ingredients. He has already made an impact in our kitchen due to his culinary expertise and experience. Furthermore, it has created a lasting impression for our patrons. We are excited to see him and the staff further incorporate their style and vision in the kitchen.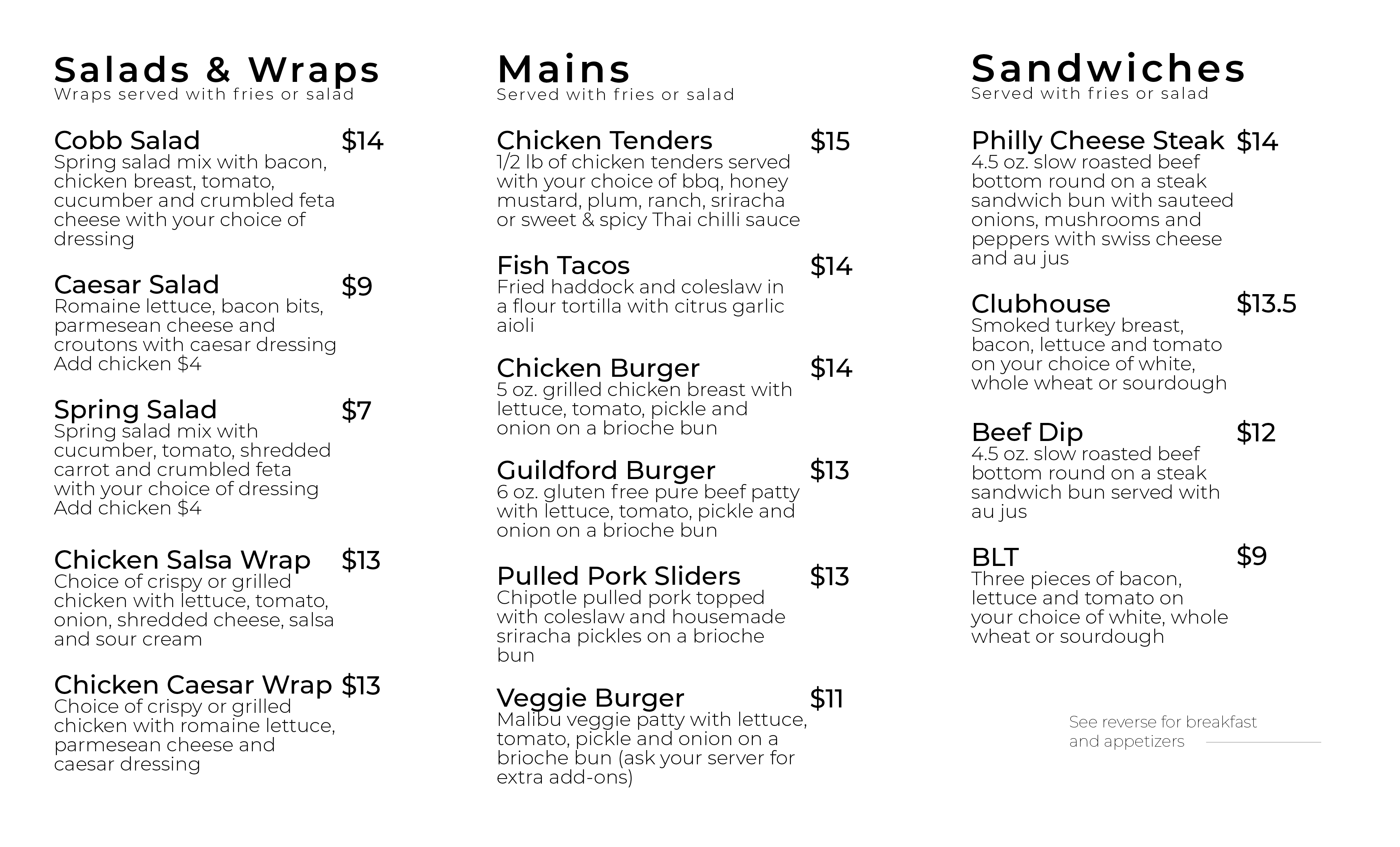 ---
Friday Night Roast Beef Buffet
Join us for an amazing buffet and drinks every Friday night. It is only $15 plus tax per guest and is open to the public in our lounge. Buffet includes: a roast beef carving station, roasted potatoes, pasta primavera, assorted vegetables and a green salad. Furthermore, kids aged five under receive 50% off their meal.
Please note that the Roast Beef Buffet returns at the start of the new year on January 3rd!
For reservations, please contact our Food/Beverage and Sales Manager, Janette Richardson at 604-594-1435. or via email Janette@guildfordgolf.com. We look forward to seeing you out on Friday!